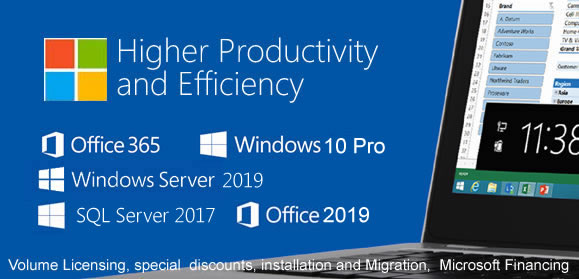 Buy Microsoft Office, Servers, Office 365 and Volume Licensing
SellCAD is leading Microsoft Licensing Reseller and certified Volume Licensing Vendor. We offer:
Operating System: Windows 7, Windows 8, OEM, FPP, Volume Licensing
Office: Microsoft Office 2013, Retail, FPP, OEM and Volume Licensing
Server System: Windows Server 2012, Standard, Enterprise and Datacenter
Exchange: Microsoft Exchange 2012
Collaboration: Microsoft SharePoint 2012
Development: Visual Studio Professional and Ultimate
Communication: Lync 2012 for communication
And many more>>
Services on Microsoft Products
We offer End to End Services on Microsoft products i.e.:
Certified Deployment Services: We are Microsoft Certified for Microsoft Product deployment services.
Installation of Microsoft Products: Install Microsoft products on New Systems.
Upgrade and Migration: Upgrade software and hardware, migrate existing assets and systems
Data and Application Migration: Port and Migrate Application and Data on New Systems.
Microsoft Financing
We bring Microsoft Financing power, easy and convient for all purchases above $3000. They purchases must have minimum 15% Microsoft Content
Specials and Discounts
We often have specials and discounts on Microsoft Products, please bookmark this page and Special Promotions page.
We differentiate by simplicity, quality of services and unbiased advice. Buy all that you need, good quality and low price - Software, Hardware, Software Development, Server & Network Installation Management and Services, Design & Drafting, Resources CAD & IT
Low Simple & Clear Prices, No Hidden Check Out Extras, Pay by EFT, Cheque, Credit Card, Amex and Diners card.
No Extra Charge Master Card, Visa and just 2% on American Express and Diners
Ask for Finance Options when purchasing over $3000+.