Raster Design 2014 - New, Previous Versions, Upgrades, Subscriptions, Networking
We Offer low prices everyday on a huge range of Software, Hardware, Design & Drafting, Server & Network Installation Management & Service!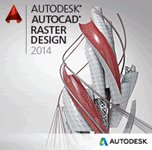 You have come to the right place to buy AutoCAD software. SellCAD is an Australian Autodesk Bronze Reseller who offer rock bottom prices on Autodesk software. SellCAD also offers free Autodesk installation support to our clients.
Buy from leading Reseller. Simple and Clear Prices, no hidden extras. All prices below include GST and Delivery by Courier.
No Extra on Credit Card, Just 2% Merchant Fee Offset extra on Amex or Diners Cards.
Raster Design 2018 Single-user ELD Annual Subscription

Price:

AU$ 1,180.00

(

AU$ 1,298.00

Inc. Tax

)

---

AutoCAD Raster Design Annual Maintenance Plan Renewal

Price:

AU$ 485.00

(

AU$ 533.50

Inc. Tax

)

---