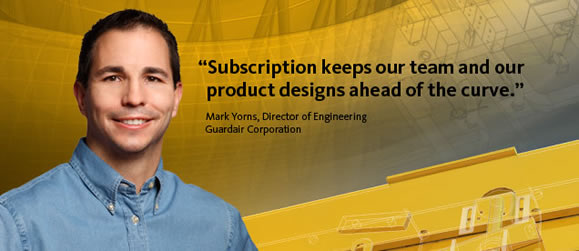 Autodesk Subscription and its benefits
New or Renew Autodesk Subscription with SellCAD
Autodesk Subscription allows customers to extend the value of their software investment with access to the latest releases and web services that can help improve design workflows. Additional benefits that enhance productivity include expedited technical support and flexible licensing options.
New web services help customers compete more effectively by using the power of cloud computing technology for design analysis and optimisation. Technical support responses delivered by Autodesk resources provide a high-quality service experience.
Reasons to buy Autodesk Subscription with your software:
Software Upgrades
Receive access to software upgrades as soon as they are released. Stay current with new product enhancements that can help you increase productivity. Upgrades ensure you always have the latest design tools to do the job.
Free Media
Subscription enables you receive Free Media. Otherwise, all deliveries except for some selected products are Electronic or the media is to be purchased. Please click this link to know how to request media from Autodesk - How to order media on your Subscription Portal>>
Flexible Licensing
Use previous and current versions of your software, install the software on both home and office computers, and use it at multiple locations, with flexible licensing privileges designed to work the way you do.
Technical Support
Resolve issues online with Autodesk product support specialists who can help with installation, configuration, and other needs. Stay on top of your companys support cases with web-based tracking and management. And if you need more, you can purchase premium levels of Autodesk technical support, such as Gold and Platinum support.
AUTOCAD WS WEB APP
View and edit DWG files without any software.
Open and edit DWG files using just a web browser and from any computer.
Manage and edit drawings
with over a 100 powerful AutoCAD tools.
Share drawings with others and plot to PDF or DWF.
Mobile Viewing
Get the Autodesk Design Review Mobile App
Description
Expedite the design review process by viewing and redlining design files while in the field or out of the office. Autodesk Design Review mobile app enables you to review Autodesk 2D and 3D design files directly on your iPad, iPhone, or iPod touch. View and mark up drawings on the spot, reduce the need to carry around over-sized paper drawings, and enjoy an all-digital design review workflow on
Autodesk Subscription also includes :
Predictable Budgeting: Improved forecasting with 1 year or multi-year contracts
Technology upgrades: Technology enhancements for the term of your contract
Web support: Fast, complete answers to technical questions
E-Learning: Wide range of self-paced, interactive lessons
Flexible use of Previous Versions: Entitled to legally continue using previous versions
Flexible Purchasing Options: Subscription fees are price protected for the term of your contract
Simplified Software Management: Centralised management of licenses, e-learning and web support
Subscription Centre: Exclusive community features and allows you to manage your contracts.
Community Access: Exclusive webcasts and training opportunities for subscribers
Beta-Program Pre-qualification: Be the first to experience new productsand provide critical feedback.
We are easy to reach - Just Call (03) 9886 7322 or easy to remember 1300 BUY CAD (1300 289 223). If we can't answer your call, we return call within 15 Minutes. Email orders@sellcad.com.auor Fax (03) 9012 7913